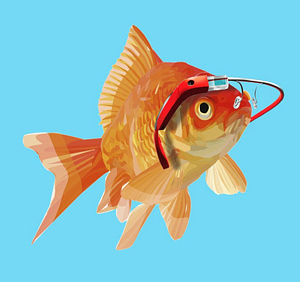 In 2013, the average attention span of a human was 8 seconds, one second less than that of a goldfish (fact).
This is relevant (as it relates to your vacation rental) because we all suffer from a little glitch when it comes to listing sites…
We hook prospective guests with our gorgeous featured images and compelling titles.
But just seconds into this process, they land on your page and something terrible happens:
They lose attention and transform into a skimmer (not a reader).
If you really think about it, most "pageviews" don't stay more than a few seconds (and thus, basically aren't views at all!)
But don't fret!
If you realize that with some small adjustments, you can increase the time (from seconds to minutes) and squeeze all those existing page views into MORE inquiries, I have a time-tested copywriting technique that might very well change your statistics forever…
Vacation Rental Listings Are Meant To Be Skimmed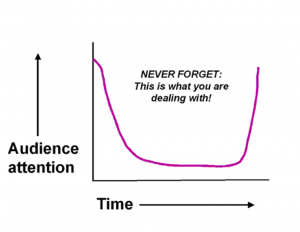 Just because there is no word limit to a webpage doesn't mean that any prospective guest wants to read hundreds and hundreds of words about your vacation rental.
In fact, I'd argue that the shorter, more succinct, and most properly spaced your listing or website copy is, the better chance you have of sealing the inquiry.
[NOTE: when I review listings like this one, I slide down the attention slope (right)]
So assuming you've honed your compelling and descriptive words down to 200 or 300 words…
You've broken your paragraphs up into short sentences….
You've used bullets effectively…
Now is the time to use the weird but supremely effective art of sub-headers to encourage the prospective guest to keep reading!
3 Components Of Great Sub-Headers
Good sub-headers are not just mini-headlines.
They keep attention!
Looky here…in this article, I've used the following sub-headers:
> Vacation Rental Listings Are Meant To Be Skimmed

> 3 Components Of Great Sub-Headers
> Realize The ENORMOUS Potential Here
> Here's What To Do Next

What do they do for you, the reader?
1) They Provide Breaks: Considering your description is probably more than 300 words long, sub-headers work as nice little rests – water breaks during the race – to keep your prospective guest reading to the very end.
2) They Make Your Text Less Intimidating: Ever been searching for a vacation rental or receive an email response that is like 500 words and it's all in one or two paragraphs? How do you feel when that happens?
The beauty of a sub-header is that it makes your description much more approachable and pleasing on the eye: it baits the guest into reading more and more about the wonders of your property. (I would argue that all of us could sell a prospective guest if we had unlimited time.)
3) They Reinforce Your Benefits: By now, you should know that the best listings push benefits, not features. So when scanned (assuming that's all a prospective guest does), the sub-headers should keep plugging away at your complete sales message.
Realize The ENORMOUS Potential Here
I didn't realize the power of sub-headers until I started using them only about a year ago.
I had long posts, long descriptions, long owner bios…etc.
But the moment I started taking some copywriting classes and learning that online attention spans are short (ESPECIALLY when it comes to travelers looking at a million similar properties) I made some changes…
These changes resulted in a tangible uptick in engagement: both with my rentals AND with my blog readers.
Having seen the difference sub-headers make, I look back on my old writing the same way I look back on my class photos from high school, as if to say, What in the world was I thinking?!?
Here's What To Do Next

This process is something that every owner or manager can do literally right now, within about 5 minutes:
First, break up your text into short paragraphs. Keep each paragraph to one or two sentences max. Eliminate anything that doesn't absolutely positively need to be in there.
Second, create and inject a small series of sub-headers (if the listing site allows it, make them big and bold or CAPS).
When read alone, these sub-headers should look like the outline of your sales pitch. Provide breaks. Be less intimidating. Reinforce your benefits.
Last, use this reverse-engineering methodology for all your vacation rental writing from now on.