Last night was the 1-year anniversary of Fortaleza Tours: Fried Fish and Mojitos, a company that emerged from our gang intervention and reintegration program Esperanza Social Venture Club here in the historic district of Casco Viejo, Panama.
It was a very surreal experience for me: to have some of my greatest mentors and friends sitting in what used to be a bullet-ridden alleyway…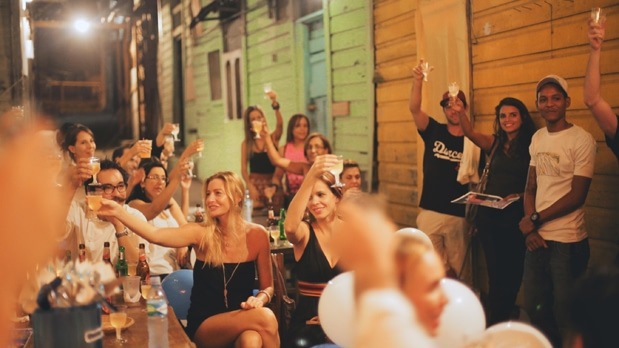 Only now we were enjoying champagne and violin.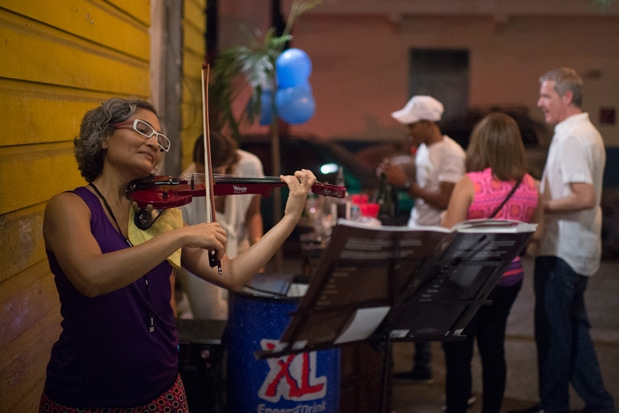 Our graduates, the five former gang members who now run Fortaleza Tours, gave a short presentation announcing proudly everything they've accomplished in the past year.
And after their presentation, they asked (well, forced) me to say a few words. So I revealed that when I started with my vacation rentals in Casco Viejo back in 2007, we would tell our guests one thing upon arrival:
"We'd say here is a map of our neighborhood: do not wander up into this area because it is controlled by a gang called Ciudad de Dios and you will…get…robbed."
(Of course, we had plenty of guests who didn't heed our warning and of course, they got robbed.)
But today, I explained, when guests arrive to Los Cuatro Tulipanes we tell them something slightly different upon arrival:
"Today we say, before you leave Casco Viejo you MUST wander up into this area and take a tour with the former gang leaders of Ciudad de Dios. It is simply the most awe-inspiring tour experience that is offered in Panama City. (Men's Journal | LA Magazine | El Visitante)"
This is when I pulled out my ace in the hole: 50 copies of a map supplied to us by the chief of police showing neighborhood crime in the past 15 months (I've outlined the Ciudad de Dios area in red ink):
Every person in the alley (including our graduates themselves) was amazed to see that the former Ciudad de Dios area had NOT ONE robbery, assault, nor domestic violence dispute since we began our intervention in January 2014. In the words of Father Greg Boyle of Homeboys Inc in Los Angeles, "Nothing stops a bullet like a job."
"A map like this," one graduate, Jaffet added, "is something that we are most proud of."
Fortaleza Tours is only one of the six businesses that have emerged from Esperanza (we have a handyman company, a creole restaurant, a seafood distribution service, a recording studio, and a messenger/delivery service.)
And with the help of a sustainable urban development team from MIT's Sloan School, we have now designed an innovative impact investment fund that will provide seed capital to our new entrepreneurs as well as a full support network to see that each one has the opportunity to achieve results like Fortaleza…
If you would like to pledge your support, you can email me about a tax-deductible donation.