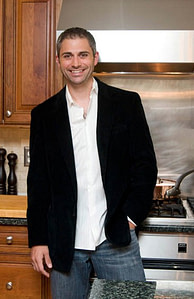 Dave McCormick is like a lot of people. As the Owner of Pro Kitchen Gear, Dave travels a lot. And whether for business or pleasure, he has been a hotel traveler all his life. He's always liked the standardization, the amenities, and the comfort in knowing precisely what he was booking prior to arrival. As a matter of fact, he used to work for Sheraton a number of years ago. So to say Dave was opposite to a vacation rental traveler would not be an exaggeration. Until recently that is…
I wanted to profile Dave because I think it really helps vacation rental owners to understand this type of personality in order to better cater to his needs. You see, Dave has always chosen hotels for his travel needs, but this past trip to Hawaii, he opted for a vacation rental and, in his own words, "the experience completely converted me." If you haven't read my free guide, How To Steal Hotel Guests (Nicely), then this is precisely what we're talking about.
"Typically," Dave told me, "with hotels, you have everything in one spot such as a fitness center, a bar, a place to eat. From that point of view, it is very nice to have those things under one roof." Of course, as vacation rental owners, we can't really accommodate ALL these things (anyone have a full gym and room service?!?!). But as Dave continues, by offering up things like recommendations, day passes to local gyms, and introductions to locals, we can basically make up for it.
"I figured, if I am able to find a vacation rental that has these amenities (at least some of them) I'm better off going with a rental.  After all, there aren't many locals that hang out in hotel bars for the great scene or to meet their friends," Dave says, which is to say, a vacation rental compensates in many ways.
You can tell that Dave kinda wanted to switch to a vacation rental and forgo some of the conveniences of hotel travel. So I asked him what were the real concrete reasons he was happy he stayed in a rental.
"We wanted to live like a local. We wanted to feel like we were coming home every day and being able to cook in our "own" kitchen.  It made the experience unforgettable since we weren't rushing around trying to find food every 4 – 5 hours and had remarkable views and half the price.  In the end, we paid around $200/night (pre tax, etc.) for beachfront cottages or condos on Oahu, Big Island and Hawaii."
In fact, Dave liked his rental experience (here's one of the reviews) so much that on his last night, having to opt for a hotel because he'd only be there one night, he never felt worse. "It was like I got stuck in a tin can and couldn't get out," he reels.
So in understanding the ability to "convert" hotel travelers to vacation rentals, I wanted to get inside Dave's head a little more:
I asked what a vacation rental owner, in Hawaii, could have done to make his "switch" even more compelling and here's what he said:
"The push towards living a like local is huge for me, personally.  The idea that I can shop , drink and eat next to people that live in a location year round is priceless.  You really gain the experience of living at a particular location.
"When selecting a property, the reviews from other travelers also tend to have a big factor in my selection and therefore, if the property owner is doing a good job, they should be working to have their guests write reviews on TripAdvisor and Yelp!.
"Furthermore, high-quality photographs go a long way, WiFi connectivity is a must for the majority of travelers these days.
"And lastly," Dave concludes, "don't fudge it.  If you try to hide something in pictures or not give full disclosure, you're going to get a bad review and someone like me is going to read it and elect to stay somewhere else. Big hotels are successful because they don't fudge it. So as a successful vacation rental owner, you shouldn't either.
"To put travelers at ease, again be up front. Be able to accept credit cards (yes, even American Express). And remember it's about whatever you can do to make it easier on the customer.  I am business owner and this what we do every day."
Dave's words ring eerily true to vacation rental owners. Many of us know all these things already, but we haven't implemented them yet. Maybe we're lazy. Maybe we don't have enough time. Maybe we're just not totally convinced that they really make a difference?
Dave liked his rental experience so much that on his upcoming visit to Chicago for a symposium, he cancelled his hotel reservations (Yes, you read that right — he cancelled his existing hotel reservations) in favor of an apartment rental, simply because of his eye-opening Hawaii experience. "I couldn't fathom the idea of coming back to hotel every night, for 4 nights straight, just to be forced back out to grab a (probably, mediocre) bite to eat."
Dave is not an unusual traveler. In fact, he perfectly embodies the hotel traveler mindset. Learning to get inside their heads and offer them what they want — to play on our strengths and try to improve our weaknesses — we can all attract more guests.