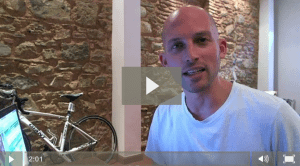 [Warning: I predict that HomeAway or FlipKey or one of the other big companies will take this idea and turn it into an app within the next 2 years. Just remember, you heard it on Matt Landau's VR blog first!]
I'm constantly on the lookout for new tools or secret weapons I can use to better engage my potential guests and convince them to book a reservation faster…
And when I first came across the idea of video messaging (not professionally edited videos like these ones, but rather homemade videos that you use in the correspondence process to build trust and personality) I had the following concerns:
[thrive_text_block color='light' headline='My 3 Hesitations About Utilizing Video']
1. Good video equipment is expensive and kinda complicated
2. Editing video is a skill I simply do not have (or care to learn)
3. I hate listening to my own voice on my podcasts and I hate even more watching myself on video: I just look so goofy!
[/thrive_text_block]
So while I knew that using my webcam to make a short video messages to guests was a good idea (I've seen it done really successfully in other industries like real estate, financial services, sales teams), I wasn't super thrilled to adopt it.
Until…I Was Convinced To Give It A Shot
My new friend Will Franco owns jiveSYSTEMS (a video marketing company) and he was just in Panama where we met in person.
He is the creator of "The Digital Handshake" in which you send a short video email to a potential guest to connect with them on a more personal level.
"Matt, you NEED to be using video for your vacation rental leads," he said. "You're absolutely ridiculous not to be doing this."
And his argument (as it related to my 3 concerns above) went like this:
[thrive_text_block color='light' headline='Will Responds To My 3 Hesitations']
1. Equipment: Actually there are cheap webcams and microphones nowadays that give near-identical quality as the fancy shmancy DSLR cameras (heck, some laptops have them built in). Specifically, this Blue Nessie mic and this Logitech webcam.
2. Editing: It's possible to adopt a more casual style of video in which you don't edit at all (you just ride it all the way through, little flaws and all) and basically hit one button to upload
3. Embarrassment: Get over it! Everyone including the biggest actors on the planet hate the look of themselves on camera but they realize it's something they need to do to make lots of money…so just do it and stop being all dramatic!
[/thrive_text_block]
So I gave in.
To avoid complications of the learning curve, Will encouraged me to adopt a simple recipe of a) using a cheap but good webcam and microphone, b) not editing at all (I just do one take and then hit a button to upload to hosting), and c) doing more and more videos to get comfortable with seeing myself on camera.
And the quick results summary is that I'm absolutely crushing it.
Here's an example of a follow-up video I sent out to an inquiry from a lady named Emily this morning:
She responded "Wow, Matt that was indeed unexpected! I will pay for the booking as soon as I return home. Thanks and looking forward to an amazing Jazz Fest!"
And this is not an unusual response.
And actually, pretty much every owner/manager in My VR Marketing Inner Circle who has tried it out is getting insanely good results.
Video is now like our secret weapon. It's like a phone call…on steroids!
The 6 Video Techniques That Work Best
Of course I'm not going to claim ownership to this theme of video marketing, but I have developed some practices that seem to work especially well in the vacation rental industry.
I try to implement or consider each of these before making a new video:
1) Offer special bonuses: If it's not something exclusive like the Jazz Fest tent in the video above, it could be an offer to make them a reservation at the best restaurant in town or to pre-stock their fridge with some delicious snacks.
2) Mention calls to action in email: "I have provided the payment link below" or "please just give me a call at XXX-XXXX if you have any additional questions" seem to really piggyback onto the personalized theme of the message and work extra well
3) Take the videos in interesting spots: As long as it is professional enough, I have had good results showing the ocean in the background (from our balcony) or sunset in the background (from our roof). A smartphone works perfectly well for this.
4) Don't use Youtube: I use the jiveSYSTEMS account for my video hosting instead of YouTube as it's faster and more professional (there are a few others that do the same thing). With this set-up, the upload process is ONE CLICK and then the insertion process into an email or a blog post is a simple COPY/PASTE away. The entire process (not counting the message itself) takes about 60 seconds.
5) You CAN. NOT. BE. PERFECT.: When I started it was sooooo easy to keep re-doing the videos in order to get them absolutely perfect because I'm usually a perfectionist. This took forever. But with video, I've found the casual style to be totally sufficient in getting results (and not to mention, a massive time-saver).
6) Consider The Evergreen Effect: Will also suggested that those who don't want to follow up every single time with video can do one pre-recorded generic "Thank You" video that doesn't feature any names or dates, rather just an appreciation for inquiring…etc. I have a few of these stowed away for easy usage.
Concluding Thoughts
So there you have it!
I'm guessing that many of you (who have been in the VR game for a while, or those just getting started) can see the value in a personalized video: either as a follow-up OR as the actual first communication response point blank.
After testing it for the past few months (and waiting to get this post juuuuuust right), I'm going on a limb and saying that video will be the future of vacation rental guest correspondence. One of the big guys reading this right now will (if they have not already) push it into their IT development priority list (De Nada, Dude).
I'd be curious to hear feedback from anyone who's getting results or plans to give it a try in the comments section below…